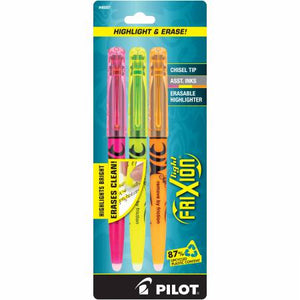 Frixion Light Assorted 3pk
See more from
Pilot Pen Corporation of America Pilot Pen Corporation of America Quilt Patterns
Item Number

Pilot's FriXion Light Highlighters highlight with bright color and erase cleanly! The future of highlighting is finally here! While highlighting work, notes, or textbooks, we've all accidentally highlighted the wrong word, or over-highlighted a page. It would be ideal if we could un-highlight certain sections; with FriXion Light highlighters, that's not a problem!
Simply rub the 'erasing tip' over the highlighting and the ink will disappear cleanly from the page, with no messy eraser shavings. FriXion's unique thermo-sensitive ink is formulated to deliver both vibrant color and smooth erasing. Great for editing, lists, scheduling and so much more!
-Highlights in Pastel, Erases Clean
-FriXion is America's #1 selling erasable pen brand
-Durable tip with brilliant, fluorescent ink colors brings instant recall to important information
-Highlight and erase repeatedly without damaging documents - no wear or tear!
-Unique thermo-sensitive gel ink formula that disappears with erasing friction
-Contains 87% recycled content
Color: Assorted

Made of: Plastic and Ink

Use: Highlighter

Includes: 3pk