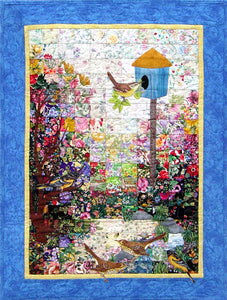 "Birdhouse" Watercolor Quilt Kit
See more from
Whims Watercolor Quilt Kits Quilt Patterns
Item Number

Escape to the tranquil creek, sit in the shade by the path and watch the birds fly to and from the birdhouse! How many birds can you find in the field? Designed by Watercolor Artist and Designer Lois Gerig for Whims. Finished size approx. 16 1/2″ x 25 1/2″ (without border).
All kits include: Dark, medium, and light die-cut watercolor fabrics, necessary applique fabrics and patterns, along with detailed instructions and a color photo.
Whims Recommends using Quilt Grid to speed up the process of sewing the background squares together.
using Whims Quilt Kits with Quilt Grid makes it easy for both beginners and advanced quilters to create a beautiful Water Quilt.