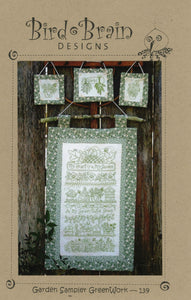 Garden Sampler Greenwork
See more from
Bird Brain Designs Quilt Patterns
Item Number

Green is the perfect color to stitch up a garden lover's sampler! Lots of borders filled with lovely garden goodies to celebrate gardening - use the borders to create other designs to decorate your home. Choose cotton prints to finish your sampler and then select a green #8 Perle Cotton that complements the fabric to stitch with - FUN! Trace the Sampler design onto the muslin with a Green Pigma Pen and stitch with Ultra Dark Pistachio Green Pearl Cotton Ball Size 8.
Wall Hanging - 13 1/2" x 22" (embroidery - 9" x 17")
Garden Ornaments 4 1/2" x 4 1/2" - 6" X 6"
  Use a 7" or 9" No-Slip Morgan Hoop for your embroidery - truly the best!