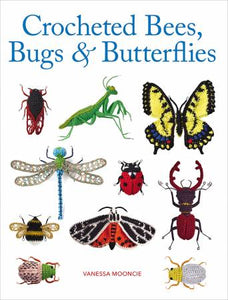 Crocheted Bees, Bugs and Butterflies
See more from
Guild of Master Craftsman Quilt Patterns
Item Number

Crocheted Bees Bugs and Butterflies is a stunning collection of 10 exquisite crochet projects including moths, beetles, butterflies and other insects. Each project includes clear step-by-step instructions and stunning photography.

The book includes an extensive and beautifully illustrated techniques section explaining everything you need to know to embark on these wonderful projects. Once completed the projects can either be worn as an accessory, such as a brooch or hair decoration, or they can be mounted in a frame or bell jar for display.

Made using various yarns, metallic and nylon threads, these projects incorporate beads and sequins to give astounding results. The legs are wired and the designs use a variety of crochet stitches and embroidered details.


Author: Vanessa Mooncie

Publish Date: 06/15/2022

Softcover