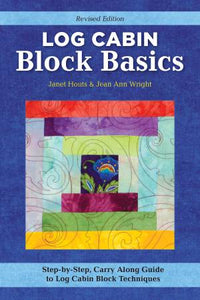 Log Cabin Block Basics Updated Edition
See more from
Landauer Quilt Patterns
Item Number

New Revised Edition contains a new fresh cover, step by step photography with new fabrics as well as five new setting ideas.
The ultimate reference guide for the most popular block in quilting – log cabin blocks – in the perfect carry-along size! This handy, must-have booklet contains clear, step-by-step instructions, tips, and techniques for traditional log cabin blocks, half log cabin blocks, and courthouse steps log cabin blocks. Also included are 6 log cabin block variations, yardage requirements, cutting charts for 6", 8", 10", and 12" blocks, and 11 different setting ideas.
Its compact size makes this go-to pocket guide great to keep in your project bag, so you'll never be without it! This revised edition includes new step-by-step photography with new fabrics, as well as 5 new setting ideas.
Pages: 48

Publish Date: 05/24/2022

Dimensions 4in x 6in x 1/4in

Softcover