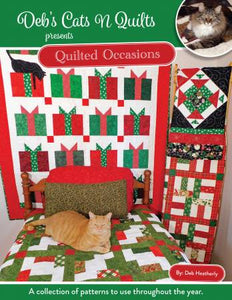 Quilted Occasions Books
See more from
Debs Cats N Quilts Quilt Patterns
Item Number

This book contains 11 projects that are perfect to use throughout the year. Each project is shown in Christmas fabric as well as an alternate colorway to give you plenty of ideas.

The patterns include a fun wall hanging, an octagonal tree skirt that can also be a table topper, 2 quilts that are quick, easy, and strip friendly, 1 quilt perfect for fussy cuts, a large Christmas tree whose ornaments could use photo transfers of grandchildren, or fussy cuts of a favorite football team, and so much more.

This book is definitely not just for Christmas.


Printed Paper Pattern

Finished Size: Multiple

Final Product: Quilt

Technique Used: Standard Machine Sewing

Skill Level: Confident Beginner