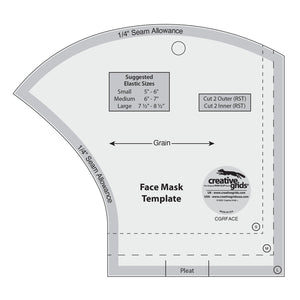 Creative Grids Face Mask Template
See more from
Creative Grids Ruler Quilt Patterns
Item Number

WE HAVE FACE MASKS IN THE HOUSE AND ARE SHIPPING !!! 
The Face Mask Template is a 3-in-1 template that makes a small, medium, or large sized mask.

An instruction guide is included with the template.

The Face Mask Template is a fast way to cut out shaped double layered face masks. Simply stack 2 coordinating fabric pieces; two times; (with right sides together) and cut around the template with a rotary cutter. There will be a total of 4 pieces; an outer set and an inner set.

This template also features pleat marks to give the mask a more custom fit after construction.

The ruler slides easily over the fabric until pressure is applied. Then, our exclusive gripper holds the fabric in place while cutting, eliminating slipping and miss-cuts!