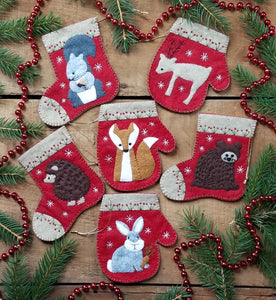 Christmas Critters Downloadable Pattern
See more from
Rachels of Greenfield Quilt Patterns
Item Number

This is a downloadable pattern. Downloads are sent immediately after purchase.

The woodland critters are celebrating Christmas! A pudgy bear, plump bunny, petite deer, prickly hedgehog, pointy fox, and proud squirrel make up this combination of 3 mitten and 3 stocking ornaments. Each ornament is open at the top and can be filled with gift cards or other small treasures.

Size is approximately 4" x 4 3/2".

Please respect the copyright law. The artist has worked hard to create this work. If another copy is needed for a friend, another license needs to be purchased. Thank you for supporting the quilting community.