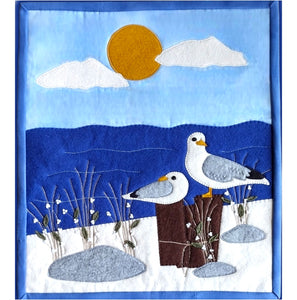 Coastal Watch Downloadable Pattern
See more from
Rachels of Greenfield Quilt Patterns
Item Number

This is a downloadable pattern. Downloads are sent immediately after purchase.

The Coastal Watch Pattern is a nautical theme with two white seagulls resting on a pier watching over the beach at sunset. The blues of the sky and water and the white of the sandy beach are accented by the orange of the setting sun. The Coastal Watch Pattern is not complicated. Pieces are cut using templates. The cut pieces are then placed and appliqued in place following the illustrated instructions. Decorative Stitches can be added if desired according to your taste. The pattern cover page works as a full-color, illustrated layout design. For those who want to challenge themselves, you can add your own personal touches with stitches and embellishments not listed on the pattern.

Please respect the copyright law. The artist has worked hard to create this work. If another copy is needed for a friend, another license needs to be purchased. Thank you for supporting the quilting community.