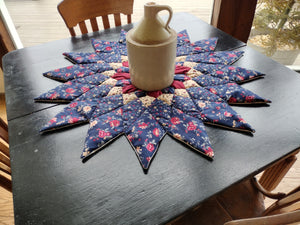 Dahlia Star Downloadable Pattern
See more from
Rachels of Greenfield Quilt Patterns
Item Number

This is a downloadable pattern. Downloads are sent immediately after purchase.

Dahlia Star Centerpiece Pattern, designed by Rachel's of Greenfield. The perfect centerpiece for your kitchen table. The colors are Navy, Burgundy, and Cream. Machine sewn, measures approximately 36".

Please respect the copyright law. The artist has worked hard to create this work. If another copy is needed for a friend, another license needs to be purchased. Thank you for supporting the quilting community.