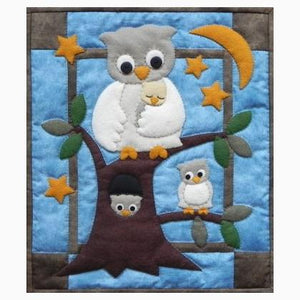 Owl Family Downloadable Pattern
See more from
Rachels of Greenfield Quilt Patterns
Item Number

This is a downloadable pattern. Downloads are sent immediately after purchase.

Bright eyes and bright stars dance in the evening sky as Mother Owl and two babies scope the landscape from their perches in a stout tree. A third baby sleeps nestled snugly in the mother's wing.

The finished size of this wall quilt pattern is 13" x 15".

Please respect the copyright law. The artist has worked hard to create this work. If another copy is needed for a friend, another license needs to be purchased. Thank you for supporting the quilting community.