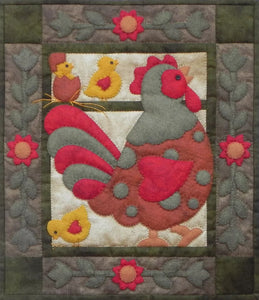 Spotty Rooster Downloadable Pattern
See more from
Rachels of Greenfield Quilt Patterns
Item Number

This is a downloadable pattern. Downloads are sent immediately after purchase.

It's morning on the farm! Alert and on task for the early wake-up call, Spotty Rooster is joined by two baby chicks – one still breaking out of its shell! A third chick, oblivious to the ruckus, fortifies for the day with a breakfast of cracked corn. A floral border surrounds them.

The finished size is 13" x 15".

Please respect the copyright law. The artist has worked hard to create this work. If another copy is needed for a friend, another license needs to be purchased. Thank you for supporting the quilting community.