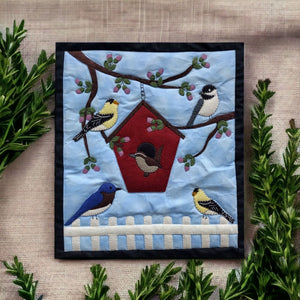 Spring Birds Downloadable Pattern
See more from
Rachels of Greenfield Quilt Patterns
Item Number

This is a downloadable pattern. Downloads are sent immediately after purchase.

The Spring Birds Pattern is a lovely wall quilt pattern designed for beginner and advanced quilters alike. This pattern features a red bird house with five lovely birds perched on the branches among the purple blossoms and atop the white picket fence, and is set against the background of the clear blue sky. Spring is in the air!

Please respect the copyright law. The artist has worked hard to create this work. If another copy is needed for a friend, another license needs to be purchased. Thank you for supporting the quilting community.