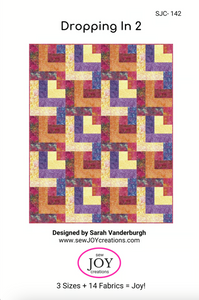 Dropping In 2 Downloadable Pattern
See more from
Sew Joy Creations Quilt Patterns
Item Number

Dropping In 2 is a downloadable pattern. Downloads are sent immediately after purchase.

Dropping In 2 is an easy beginner pattern that has twice as many fabrics as the original. It's like when all the cousins come to visit - the more the merrier! Use all*the*fabrics in this pattern - from a favorite line or your favorite colors - to make a quilt that sparkles. Christmas prints, fall themed colors and prints or even fabrics from one designer can truly make this design your own masterpiece! Advanced quilters can play with scale and value and beginners will also find success in this square and rectangle design.

A fabric selection page is included for you to use to keep track of your choices.

The pattern includes 3 size options -

Lap 48" x 60"

Twin 60" x 72"

Queen 96" x 96"

Please respect the copyright law. The artist has worked hard to create this work. If another copy is needed for a friend, another license needs to be purchased. Thank you for supporting the quilting community.