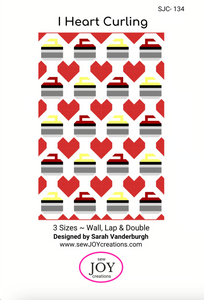 I Heart Curling Downloadable Pattern
See more from
Sew Joy Creations Quilt Patterns
Item Number

I Heart Curling is a downloadable pattern. Downloads are sent immediately after purchase.

A quilt for curling fans! Easy pieced blocks repeat with clever sashing to make this quilt rock. Use your favorite solids or add some team spirit by incorporating novelty prints. Hurry hard and enjoy making this one!

The pattern includes 3 sizes:

Wall hanging 24 1/2" x 26 1/2"

Lap quilt 48" x 68"

Double quilt 72" x 82"

Please respect the copyright law. The artist has worked hard to create this work. If another copy is needed for a friend, another license needs to be purchased. Thank you for supporting the quilting community.