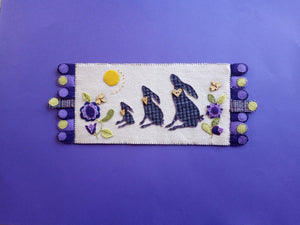 Moon Gazing Hares Downloadable Pattern
See more from
Pams Penny Rugs
Item Number

This very pretty smaller penny rug runner features mummy and daddy hare, and their little daughter Violet. It's an easy design to sew with only a few basic embroidery stitches and would look just as pretty in other colourways.

The downloadable pattern comes with a colour picture, extensive instructions, full sized templates and placement diagram. The finished size including tabs is 20" x 8".

Please respect the copyright law. The artist has worked hard to create this work. If another copy is needed for a friend, another license needs to be purchased. Thank you for supporting the quilting community.