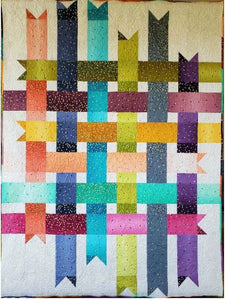 Ombre Ribbons Downloadable Pattern
See more from
Sam Quilt Designs Quilt Patterns
Item Number

Ombre Ribbons is a downloadable pattern. Downloads are sent immediately after purchase. 

Are you wondering how you can use Ombre fabric? Well here's an idea that's fun and looks so cool! You'll learn how to cut and manage the dark, medium and light fabrics. Easier than you think. Color charts to help you keep colors/shades straight-so fun!
Finished size: 53" x 71"

Please respect the copyright law. The artist has worked hard to create this work. If another copy is needed for a friend, another license needs to be purchased. Thank you for supporting the quilting community.