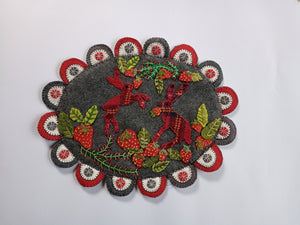 Strawberry Feast Downloadable Pattern
See more from
Pams Penny Rugs
Item Number

This lovely folk art designed penny rug features Lewis and Harris hare who come from the Outer Hebridean Islands of Scotland and shows them having a wonderful time enjoying a strawberry feast.

The downloadable pattern comes with a colour picture, extensive instructions, full sized templates and placement diagram. The finished size including pennies is 14½" x 12".

Please respect the copyright law. The artist has worked hard to create this work. If another copy is needed for a friend, another license needs to be purchased. Thank you for supporting the quilting community.