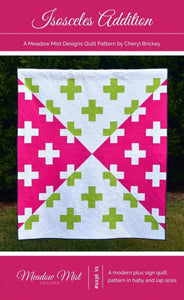 Isosceles Addition Quilt Pattern
See more from
Meadow Mist Designs Quilt Patterns
Item Number

Professionally Printed, Full Color Pattern

Isosceles Addition combines plus signs with a large overall hourglass shape for a quilt that comes together quickly and has great visual impact. The cover version (lap size) of the quilt was made from Kona Cotton Solids by Robert Kaufman in honeysuckle, chartreuse, and white, Warm & White batting by The Warm Company, and Aurifil thread. A coloring diagram of the quilt top is included to audition possible color schemes.

The pattern includes instructions for two sizes: baby and lap. See the pictures for illustrations of the different sizes and fabric requirements for each size.

Baby: 42 ½" x 48 ½"
Lap: 63 ½" x 71 ½"