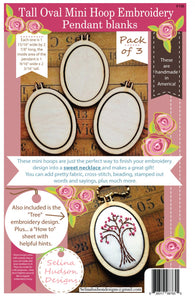 Tall Oval Mini Hoop Pendant Blanks
See more from
Hudsons Holiday Designs Quilt Patterns
Item Number

These Tall oval mini wood hoops pendants (a pack of three) are the perfect fit for any small embroidery or cross stitch project. Each one is individually crafted and so easy to add your design, embroidery or pretty fabric to.
Each one is 1-15/16in wide by 2-7/8in long, the inside area of the pendant is 1-9/16in wide x 2-3/16in tall. With this purchase you will also get one design pattern the Tree design. You will also get a how to sheet with helpful hints. This is handmade in America! They make fun unique necklaces...that match your outfits and make great gifts.
Imagine the possibilities of the embroidery designs that can fit in the tall ovals! You can add pretty fabric, cross-stitch, beading, stamped out words and sayings, and much more.
Made of: Wood

Size: 1-15/16in x 2-7/8in

Use: Embroidery Pendant

Included: 3 Pendants