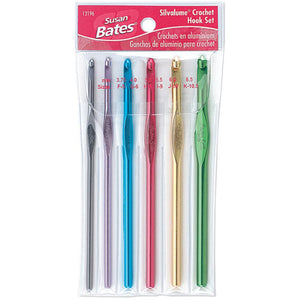 Susan Bates Silvalume Aluminum Crochet Hook Set
See more from
Susan Bates Quilt Patterns
Item Number

Silvalume Crochet Hook Set. These hooks have the broadest size range within the Susan Bates family of hooks. Made of lightweight aluminum, each Silvalume hook undergoes a special anodizing process that etches away all surface impurities.

In addition, each hook is heat treated for strength and durability and polished for a velvety smooth finish. Each size is color coded so you can find the size you need at a glance. Our famous in line head helps reduce wrist motion for fatigue free crocheting and helps you maintain a more consistent gauge. The 7x3-1/2x1/4in vinyl case is perfect to store your hooks safely.

This set includes sizes US F5, G6, H8, I9, J10 and K10.5 (3.75mm, 4mm, 5mm, 5.5mm, 6mm and 6.5mm).