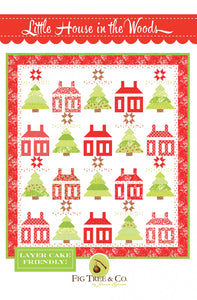 Little House In The Woods
See more from
Fig Tree Quilts Quilt Patterns
Item Number

This quilt was inspired by a recent family visit to a tree farm this Christmas.
There was just something about the tree and the red accents in the decorations that made my mind swirl with little red schoolhouse & tree block combos.
They are, after all, two of my favorite quilt blocks! And when I figured out that I could make the whole thing work with just a Layer Cake of squares, the challenge was on for me!
Size 58" x 65"