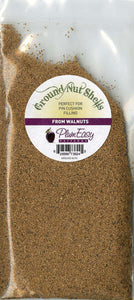 Ground Walnut Shells
See more from
PlumEasy Patterns Quilt Patterns
Item Number

Perfect for pin cushion filling. Clean and finely ground. Comes in handy bags with enough to fill one PlumEasy Pin Cushion. Approx 2 cups by volume.
Comes in a 4" x 8" zip 2m poly bags. All natural filling for pin cushion. Gives pin cushions a heavy, solid feeling. 
Ground walnut shells with lavender buds and essential oils to use for pin cushion filling. Contains 2 cups of filling. This gives pin cushions a lovely fragrance and a heavy solid feel. The filling works as a neck roll filling and can be microwaved to lay on sore muscles. All natural ground walnut shells with pesticide-free filling Grosso lavender.