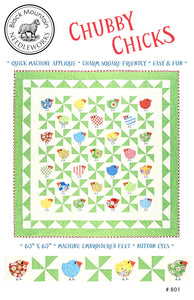 Chubby Chicks Downloadable Pattern
See more from
Black Mountain Needleworks Quilt Patterns
Item Number

Chubby Chicks is a downloadable pattern.  Downloads are sent immediately after purchase.

60" x 60" with 6" blocks

Applique doesn't get much simpler than this. Make these fun Chubby Chicks with 5" charm squares (or scraps), quick machine applique (using fusible web), machine-embroidered feet, and button eyes. The patchwork is very easy. One of my best selling patterns.

Please respect the copyright law. The artist has worked hard to create this work. If another copy is needed for a friend, another license needs to be purchased. Thank you for supporting the quilting community.