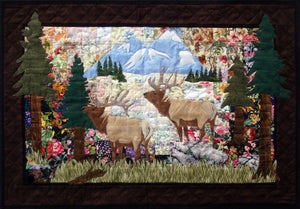 Elk Country Kit
See more from
Whims Watercolor Quilt Kits Quilt Patterns
Item Number

Finished size without border (approx.) 25.5" x 16.5"
Perfect for the den or man cave!  Who wouldn't enjoy this magnificent scene of Elk Country Quilt Kit.  The mountains and forest surrounding majestic elk will bring the outdoors inside to you!
 Kit includes pre-cut watercolor background squares along with all applique fabrics, patterns, color photo and complete instructions.
Whims Recommends using Quilt Grid to speed up the process of sewing the background squares together.

Using Whims Quilt Kits with Quilt Grid makes it easy for both beginners and advanced quilters to create a beautiful Water Quilt.