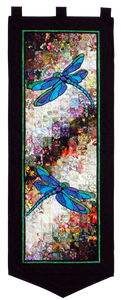 Stained Glass Dragonflies Kit
See more from
Whims Watercolor Quilt Kits Quilt Patterns
Item Number

Finished size without border (approx) 12" x 37.5"
These two colorful examples of Stained Glass Dragonflies on a wall-hanging are sure to warm your heart as a reminder of your love of Dragonflies! They appear quickly, often in vibrant colors and love to bask in the sun! They can fly straight up and down or hover like a helicopter then just as quickly they disappear!  Currently there are about 5000 species of dragonflies and damselflies known. Over 300 are from North America! This kit is easy and fun to make.
Kit includes pre-cut watercolor background squares along with all applique fabrics, patterns, color photo and complete instructions.
Whims Recommends using Quilt Grid to speed up the process of sewing the background squares together.
using Whims Quilt Kits with Quilt Grid makes it easy for both beginners and advanced quilters to create a beautiful Water Quilt.