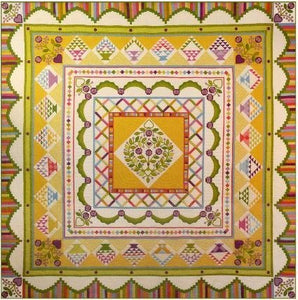 Ruffled Roses
See more from
Come Quilt Quilt Patterns
Item Number

Patterns ONLY.  NO fabric included.
Sold as a complete set, NOT monthly.
This twelve-month block-of-the-month quilt pattern is for Ruffled Roses, which is a real beauty with its medallion heart center, multiple borders and pieced baskets, and the unusal inner applique swag and outer pieced swag borders. The pattern has very detailed instructions and many visuals to help you make the quilt. The finished quilt measures 87 inches square.