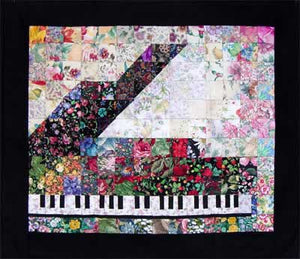 "Piano" Watercolor Quilt Kit
See more from
Whims Watercolor Quilt Kits Quilt Patterns
Item Number

This Piano will pull the heart strings of any music lover. Hear the sound of the musical notes filling the room with the timeless beauty of the Masters. Finished size 21″ x 16 1/2″ without border. Designed by Carolyn McCormick.
All kits include: Dark, medium, and light die-cut watercolor fabrics, necessary applique fabrics and patterns, along with detailed instructions and a color photo.
Whims Recommends using Quilt Grid to speed up the process of sewing the background squares together.Using Whims Quilt Kits with Quilt Grid makes it easy for both beginners and advanced quilters to create a beautiful Water Quilt.