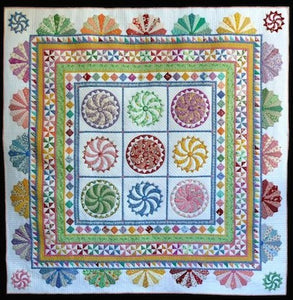 Happy Daze
See more from
Come Quilt Quilt Patterns
Item Number

Patterns ONLY.  NO fabric included.
Sold as a complete set, NOT monthly.
Happy Daze is a refreshingly cheerful quilt with its whimsical spiral balls, half-dresden plates, and more!  Sue Garman reminds us that working with 1930s-style fabrics is so much fun because the prints are always "happy" ones.  This quilt pattern is designed as a 6-month block-of-the-month series.