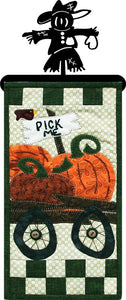 Pick Me Downloadable Pattern
See more from
Patch Abilities - Patterns Quilt Patterns
Item Number

This is a downloadable pattern. Downloads are sent immediately after purchase.

Ooh! Oooooh! Pick Me! This pattern is just begging for a chance to be in your quilting collection. With it's adorable buttons and bountiful harvest there is no way it wouldn't be worth showing off in any quilting circle.

This is the September design of the Monthly Minis Series 8! Our new pattern format including complete quilting and binding instructions makes these PERFECT one-day projects for any skill level. Don't forget the matching buttons hanger.

Please respect the copyright law. The artist has worked hard to create this work. If another copy is needed for a friend, another license needs to be purchased. Thank you for supporting the quilting community.