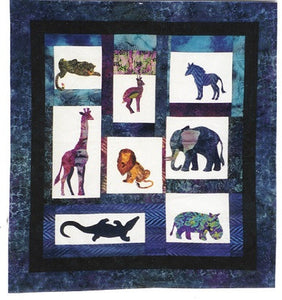 African Animals
See more from
Chestnut Bay Quilting Quilt Patterns
Item Number

59� x 60 1/2� -
The piecing of each block is a little bit fussy but the block diagrams make it simpler.
Hand applique would take longer and would be for a more experienced quilter.  Fusible applique with a nice satin stitch is simple and re-positionable before ironing.  We would recommend this pattern for a very determined beginner or moderate skill level for hand applique.
Animal applique:  for each of the 8 animals, you will need roughly one fat quarter plus smaller pieces in lighter/darker shades for highlights and shadowing.
Background: 8 fat quarters
Inner border: 7/8 yard
Outer border: 1 yard
Backing: 3 1/2 yards
Batting: Twin
Binding: 3/4 yard
Your favorite fusible product for applique or the usual suspects for hand applique.