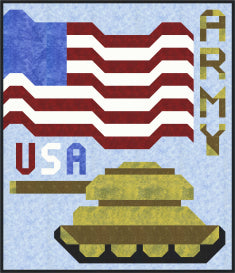 Army
See more from
Counted Quilts Quilt Patterns
Item Number

WHILE SUPPLIES LAST
This Memorial Day I added the Army quilt which was originally designed as a custom order. They wanted to make a quilt for a family member going into the Army. Combining my flag pattern with the requested tank and words I came up with this quilt. A Great quilt celebrating years of service or the start of a new adventure.

This is a full size 72x84 quilt pattern. Though larger than most of my patterns it is made in the same simple pieced method.

First rotary cutting strips of varying sizes for each color, then using a set of charts, cross cutting those strips into different length pieces, which with be labeled alphabetically. The shaping is done in the quick corner method, cutting squares, drawing a diagonal sew line on the back, and placing it on top of another piece. Finally you will sew the quilt row by row through each section following a full page color image with the pieced labeled.

The pattern is rated as an advance beginner. You will need some knowledge of rotary cutting, and be able to sew a straight and true 1/4 inch seam.