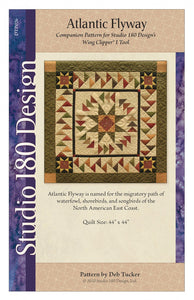 Atlantic Flyway
See more from
Studio 180 Designs Quilt Patterns
Item Number

With all of the Geese traveling around this quilt, Atlantic Flyway seemed a most appropriate name.
Techniques include "Fast Flying Geese" with
Wing Clipper
trim down, "Migrating Geese" for borders and a bit of paper foundation piecing for tricky star points.
A wonderful wall quilt or start to medallion style quilt.
44" x 44"