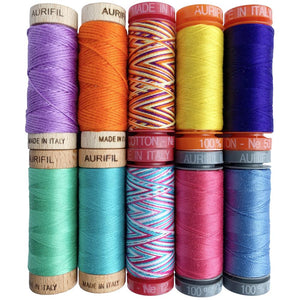 Aurifil Designer Thread Collection: Street Art By Chris English
See more from
Aurifil USA Threads
Item Number

Chris English is a quilter and artist based in Huddersfield, West Yorkshire, UK. He is well known for his use of recycled fabric, his passion for improv quilts, and for his eclectic use of fabrics and colour.

Chris draws inspiration from a wide range of sources but his biggest influence and the driving force behind this collection is Street Art. It's this mashup of styles that inspired Chris to choose the colours and varying weights in this collection.

This package contains (2) 300yd/274m spools of 80wt thread, (2) 220yd/200m spools of 50wt thread, (2) 109yd/100m spools of 28wt thread, (2) 54yd/50m spools of 12wt thread, and (2) 18yd/16m spools of Aurifloss. 100% cotton.