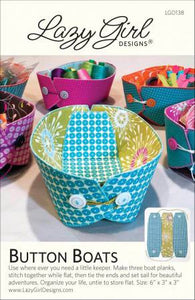 Button Boats
See more from
Lazy Girl Designs Quilt Patterns
Item Number

Use where ever you need a little keeper made from 10 squares. Make three boat planks, stitch together while flat, then tie the ends and set sail for beautiful adventures. Organize your life, then untie to store flat. Layer cake friendly.
Use with Lazy Girl pre-cut Stiff Stuff 10" squares SLG107SQ. Four 10 squares of Stiff Stuff Firm interfacing. Firm, flexible, sew-in, non-woven support for small to medium crafts. Perfect to add a little structure to your next craft project without added bulk or weight. 10 in x 10 in, 25.4 cm x 25.4 cm, 100% polyester, non-woven, machine wash, dry low.
Fuse a little, cut a little, sew a little - and done! Size: Bottom is 6 x 3, Stands 2 tall.