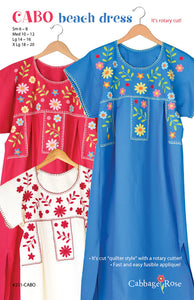 Cabo Beach Dress Downloadable Pattern
See more from
Cabbage Rose Quilt Patterns
Item Number

Cabo Beach Dress is a downloadable pattern. Downloads are sent immediately after purchase.

Small 6–8 • Medium 10–12 • Large 14–16 • XLarge 18–20

This delightful peasant dress is cut "quilter style" with a rotary cutter and ruler. Are you kidding me?! Six pieces are quickly cut without fussy pattern sheets, and the fusible applique goes super fast and easy.

I love wearing mine for picking strawberries in the garden, running to the market, and as a simple cover-up after the pool. With cute sandals, it even looks great around the town.

The instructions are from size 6–20, so you can make one for all of your friends or sisters, and even one for your mom.

Please respect the copyright law. The artist has worked hard to create this work. If another copy is needed for a friend, another license needs to be purchased. Thank you for supporting the quilting community.