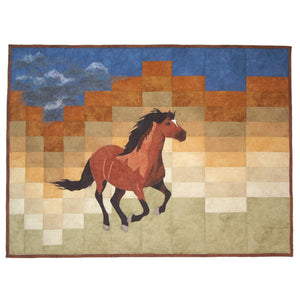 Gathering Storm Quilt Pattern
See more from
Grizzly Gulch Gallery Quilt Patterns
Item Number

Bargello Quilt-As-You-Go and Fusible, Raw Edge Applique Techniques

Patterns: Full Sized, Drawn in Reverse. 46″ W x 34″ L.

Clouds darken; lightning flashes; the wind whirls and the sleek mare searches for safety.
This artistic and memorable scene can easily and quickly be created by combining two basic techniques: Bargello quilt-as-you-go and fusible, raw edge applique. Instructions are detailed and very simple to follow. The horse patterns are full sized and drawn in reverse.