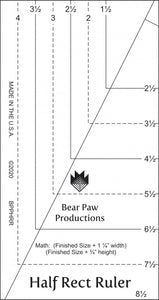 Half Rect Ruler
See more from
Bear Paw Productions Quilt Patterns
Item Number

This Half Rect Ruler helps you trim precise half rectangle triangle units quickly and easily. The finished unit is twice as tall as it is wide, a ratio of 2:1. Create seven different size units from 1 ½" x 2 ½" to 4 ½" x 8 ½" - 1" x 2" to 4" x 8" finished size.
Fabric is first cut into rectangles following the chart provided in the written instructions. The rectangles are then sub-cut into triangles using the markings on the Half Rect Ruler. Once sewn the units are easily trimmed to the exact size desired.
The Half Rect Ruler eliminates the need to stress about the challenges of sewing a bias seam. Piecing is a breeze and the units are trimmed to perfection. A must have for every quilter.
Total Size - 4 ½" x 8 ½""