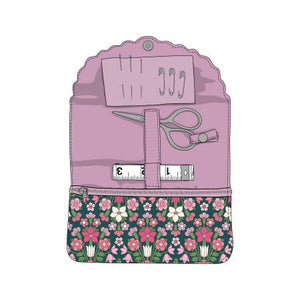 Hampstead Meadow Sewing Roll
See more from
Liberty Fabrics Quilt Patterns
Item Number

The Liberty Fabrics Sewing Roll allows you to carry your most trusted sewing tools with you anywhere you go. The sewing basket  includes 1 embroidery scissors, 1 tape measure, 3 safety pins, and 3 needles. It also has a zip pocket for other items. Spot clean only. Approximate size is 3in x 6.75in closed and 9.5in open.
Color: Pink

Size: 3in x 3.75in (Closed) and 9.5in (Open)

Use: Sewing Case

Included: Case, Scissors, Tape Measure, 3 Safety pins and 3 needles.