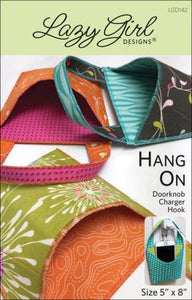 Hang On
See more from
Lazy Girl Designs Quilt Patterns
Item Number

Hang a small pocket on a charging cord, door handle, or hook. Hold a cell phone, keys, glasses, candy, goodies, and more! Use where ever you need a little keeper. Fuse a little, cut a little, sew a little - and done! Made from 10in squares. Size: 5in x 8in. Use with Lazy Girl pre-cut Stiff Stuff 10"in squares. 
Stiff Stuff 10in Squares Craft Pack - 
Four 10in squares of Stiff Stuff Firm interfacing. Firm, flexible, sew-in, non-woven support for small to medium crafts. Perfect to add a little structure to your next craft project without added bulk or weight. 10 in x 10 in, 25.4 cm x 25.4 cm, 100% polyester, non-woven, machine wash, dry low. Made in USA.