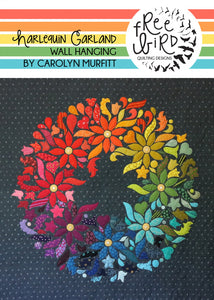 Harlequin Garland Quilt Pattern or Templates
See more from
Free Bird Quilting Designs Quilt Patterns
Item Number

The Harlequin Garland completed size is 51" square the perfect wall hanging size. This project is the perfect size for a portable hand project. The pattern comes with instructions for both 'raw edge' applique and basic instructions for 'needle turn' applique. If  you choose the 'raw edge' method of applique you can machine sew the pieces onto the background fabric or sew the applique piece onto the background by hand, using a blanket stitch.
51" x 51"
The Harlequin Garland Template set is the perfect addition to the Harlequin Garland Pattern.
There are 30 templates in the set and they are perfect if you do not want to make your own templates.
These templates will be a welcome addition to your quilting notions as they can be used for many projects in the future, cushions and table runners to name a few.