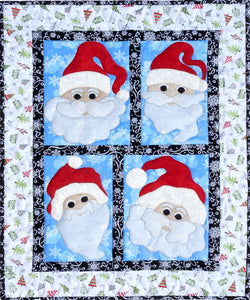 Jolly Santa's Wall Hanging Pattern
See more from
More the Merrier Designs
Item Number

This very Christmas time cutie just makes you want to smile! 4 different Santa faces are done in applique on this happy little wall hanging. This pattern is a quick one to finish up, so if you need a last minute gift or decoration this is the one for you.

Pick and choose your own colors to match your style. Use embellishments if that suits you. Our Santa's are simple to allow you to see how easy these designs will be to applique.

Need a table runner instead of a wall hanging? Line our Santa's up in a row and you will have Jolly Santa's on your table instead of your wall.

Finished Size: Wall Hanging 21.5" x 28"

Skill Level: Advanced Beginner

Technique: Pieced/Applique

Pattern designed by Sylvia Harden of More the Merrier Designs.