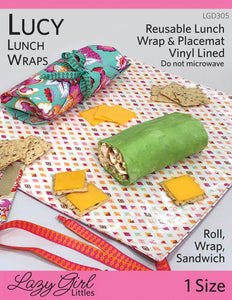 Lucy Lunch Wrap
See more from
Lazy Girl Designs Quilt Patterns
Item Number

Share your lunch with a friend! The Lucy vinyl-lined, reusable lunch wrap is a tidy way to wrap a sandwich, burrito, sub, and more. Unwrap your eats, and Lucy is the perfect placemat to host your tasty adventure. Use Lucy to wrap pot luck serving spoons for tidy transport. Lucy's unique design, and corner tie, fit all sorts of yummies and messies. Finished size 13in x 13in
NOTE: DO NOT MICROWAVE OR USE IN OVEN
Supplies Makes 1 Lucy
14in square outside fabric
14in square lining fabric
14in square Slicker Iron-On Glossy Vinyl by Lazy Girl, SLG1021 (not included)
1 yd Ribbon, 1/4in- 3/8in wide, for tie.
Slicker Iron-On Glossy Vinyl - Fuse this project-sized Slicker to any smooth fabric to make it water-resistant. Fuse to paper to laminate signs, artwork and more. Can be stitched without leaving adhesive residue on sewing machine needle. Perfect for items that clean up with a wipe.