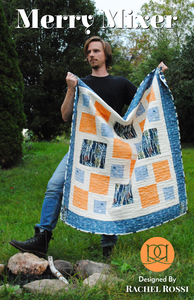 Merry Mixer Quilt
See more from
Rachel Rossi Design Quilt Patterns
Item Number

This quilt will become your go-to in no time! Perfect for those fabrics that you just can't cut, this versatile pattern comes in a variety of sizes—lovely for baby (sized perfectly for tummy time) and grown ups alike! You'll be amazed at how quickly this pattern comes together.
This easy quilt pattern has been tested for accuracy and clarity. All instructions are included for a baby, throw, and twin sized quilt.
Baby/Child - 48 1/2" x 48 1/2"
Throw - 48 1/2" x 60 1/2"
Twin - 60 1/2" x 84 1/2"