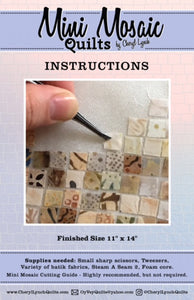 Mini Mosaic Quilts Cutting Guide And Instructions
See more from
Oy Vey Quilt Designs Quilt Patterns
Item Number

Cheryl's Mini Mosaic Cutting Guide was developed as a companion product to quickly and easily cut the batik fabric squares needed for making Mini Mosaic quilts.

Using a 45mm rotary cutter placed in the slit, cut in one direction then turn the guide 90degrees and cut again. Multiple layers can be cut at once.

Approximate size: 4-3/4in x 6-3/4in.