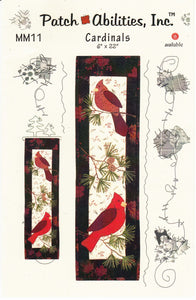 Monthly Minis #1 Cardinals Quilt Pattern
See more from
Patch Abilities - Patterns Quilt Patterns
Item Number

6in x 22in Finished.
How do you make the pine branches? Thats the million dollar question. Embroidery. Thats how. Im no embroidery expert at all, so I sort of used the back stitch and really long stitches. See, even my description is less than . . . eloquent. The pattern gives you diagrams and much better directions.
You'll need a hanger also. Lots of hangers available... all of which can be seen here.