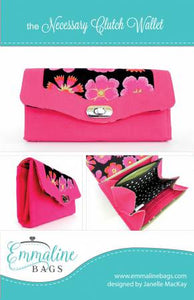 Necessary Clutch Wallet
See more from
Emmaline Bags Quilt Patterns
Item Number

Pattern and hardware sold separately.

A Small Turn Lock for bags, wallets and purses. The Necessary Clutch Wallet isn't just your ordinary wallet. Carry your cell phone/mobile, cheques, cash, cards, coins and still have room for your favorite lipstick or even personal items. With its closed ends, everything is safe and secure and there is never any worry about anything sliding out.

The patterns pieces are full size, and include seam allowances. Pattern instructions are provided in both imperial and metric measurements.

The finished size is approximately:

Length: 8in (20 cm) across bottom
Height: 4in (10 cm)
Depth: 1in (25 cm) wide at bottom.

Small Turn Lock - A Small Turn Lock for bags, wallets and purses. These quality locks are assembled a little differently than others. The front hole plate is put together with two screws (included), and the turn part has prongs that enclose over a washer that is hidden between the lining and exterior or your bag. These are professional grade quality. Installation instructions included.
Measurements:
1 3/8in x 3/4in