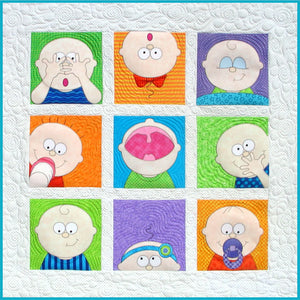 Peek a Boo Downloadable Pattern
See more from
Amy Bradley Designs Quilt Patterns
Item Number

Peek a Boo is a downloadable pattern.  Downloads are sent immediately after purchase.

Peek A Boo download pattern is a 28 page pdf file you download and print on your home printer. Be sure "Actual Size" is checked in the print box when printing. The Peek A Boo pattern includes instructions, patterns, and placement sheets to make this nine block 39 1/2" x 39 1/2" wall hanging as well as a 33" x 42 1/2" crib quilt with a patchwork center. The technique is fusible applique.

Please respect the copyright law. The artist has worked hard to create this work. If another copy is needed for a friend, another license needs to be purchased. Thank you for supporting the quilting community.