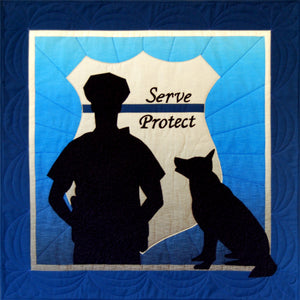 Police Officer
See more from
Happy Stash Quilts Quilt Patterns
Item Number

WHILE SUPPLIES LAST
Thank a Police Officer with this quick and easy 26" x 26" wall hanging.
The 3 large applique pieces and the 12 smaller letters are fused onto the background to create the delightful silhouette design!
Just 4 fabrics -- an ombre blue for the background,  an ombre gray for the shield wonderful and inner border,  a royal blue for the thin blue line in the shield and for the final border,  and a dark navy blue for the silhouettes and letters.