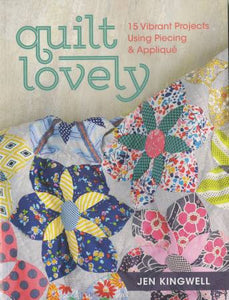 Quilt Lovely
See more from
Krause Publications Quilt Patterns
Item Number

Jens strong sense for color and pattern gives her quilt designs an unmatched originality. Her style is a unique and unconventional mix of brights, traditional and modern fabrics that make for distinctive, stylish quilts popular worldwide.
¢ Shop appeal: Projects are engineered for shop owners to sell fabrics and quilting notions.
¢ Traditional and Modern: Jen intertwines traditional designs with the modern fabrics to appeal to a wide variety of quilters. She also puts more focus on hand quilting and piecing than other quilting books, which provides hand quilters with a resources and offers machine quilters the chance to learn new techniques.
The 9 quilt designs and 6 cushions designs in this book play into the resurgence of hand stitching, as hand piecing, hand applique and hand quilting are the authors passion. Yet these color-infused creations will also appeal to machine quilters looking for a fresh, new quilting challenge. Each design includes instructions and illustrations to reproduce each piece, as well as an appendix of general quilting information.